Our Appointment System
How to book an appointment
You can contact the surgery online in a number of ways:
It may not be necessary for you to attend for an appointment.  You can submit an e-consultation listing details about your condition or your administration request and you will receive a response from the practice usually within 24 hours but you will be advised of the timeframe once you have submitted.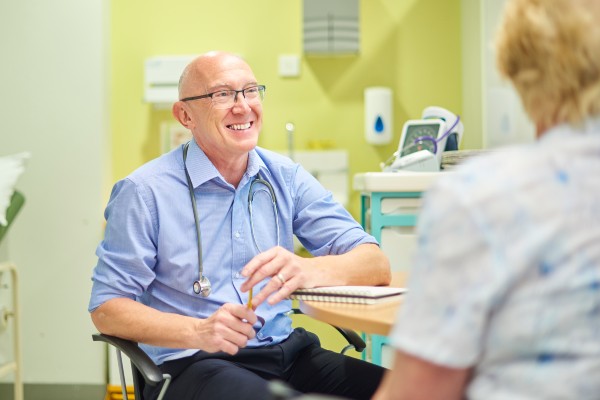 We will ask that you contact the surgery on the day you need to see a Doctor or Nurse Practitioner and we will endeavour to give you an appointment time to either be seen, or talk to a Doctor or Nurse Practitioner on the phone.
I still need to see or talk to someone at the surgery
There are several types of appointments available to all patients of the Liberty Bridge Road Practice. If you choose to call the surgery or visit to book an appointment, a receptionist will ask you the reason you need the appointment. This is to ensure you get the right appointment with the right clinician. If you know who you would like to see and do not wish to disclose your clinical concerns, your appointment will be marked as private.
Find out more about our services
Doctor Appointments
Routine Appointments
These are appointments that are non-urgent and can be booked up to 4 weeks in advance, You can book your appointment online using EMIS Access. Please contact the reception team who will be able to issue a password to you so that you can access our appointments online.
Appointments with a Doctor/GP are set at 10 min intervals and there are 18 appointments per Doctor's session. The 10 minutes includes: time to find out your health concerns and recording that in your records, having a discussion about next steps/treatment options and issuing of medication/referral letter/advice leaflets as appropriate.
If you feel you have more than one clinical problem that you wish to discuss with the Doctor, you can book a double appointment to give you more time with the doctor. Similarly if English is not your first language, it will be beneficial to have a double appointment to allow time for translation.
On The Day Triage
These are emergency telephone appointments that are for problems that cannot wait until the next available routine appointment. These appointments are available from 8:00am on the same day. Once you are placed on the triage list, a Doctor or Physician's Associate will call you back to assess your condition. In most instances, minor ailments can be dealt with by giving self-help advice over the phone, producing a prescription to be collected, or signposting to other primary care services including the pharmacy, dentist, family planning clinic etc. If, however, the clinician feels that you need to be seen for a face to face appointment, you will be booked into one of the reserved on-the-day appointments.
eConsults
If you are not able to come to the practice, or you cannot find an appointment which suits you, you can consult a GP from the comfort of your home (or office, or bus stop!) All you have to do is click on the 'Get started now' icon on the right and answer a few questions about your health condition. Your responses will be seen by a Doctor and the necessary action will be taken by the end of the next working day.
GP Follow-Up Sessions
These are appointments that are reserved for clinicians to book when they feel a patient needs a follow up appointment with a GP in an agreed time frame.
We are in the process of reviewing these appointment types to ensure that we have sufficient numbers and variety of appointments available to our patients. If you have any comments or suggestions about appointments please get in touch.
Nursing Appointments
Appointments with the Practice Nurse are set at 15 min intervals. The Nurses can help with the following:
Health Checks
There are two types of health checks provided:
New Patient Health Check where a new patient has basic checks, e.g. height, weight, blood pressure and discusses any current conditions/medications.
NHS Health Checks are health checks for adults in England aged 40-74 without a preexisting condition, it checks your circulatory and vascular health and what your risk of getting a disabling vascular disease is.
More information about NHS Health Checks is available here.
General Lifestyle Advice
Including nutrition and diet, exercise, weight management
Chronic Disease Reviews
Including  asthma, diabetes and hypertension reviews.
A double appointment may be needed.
Travel Advice and Immunisations
During your appointment the Nurse will discuss your travel arrangements and inform you of any risks of infection at your travel destination. You will be given advice on how to stay safe whilst travelling and you may be given prophylactic medication/injections to protect you. Please note that there is a charge for some travel vaccinations and prescriptions.
A double appointment is needed.
Childhood Immunisations
Children need to be immunised at 2, 3 and 4 months, one year and 3.5 years. Find more information about the childhood immunisation schedule.
Please remember to bring your child's red book for this appointment.
Blood Tests
If a Doctor has recommended  a blood test, you will receive a blood test request form. Please bring this with you to your appointment. Please note that if your blood test was requested from a private clinician, this is not considered an NHS Service and we may not be able to do the blood test for you.
Cervical Smears
Cervical screening (more commonly known as the smear test) is a test to check the cells of the cervix. All ladies between the ages of 25 and 55 will need to have a smear test every 3 years. For the best results, please book your smear test with the Nurse 2 weeks after the first day of your menstrual cycle (1st day of bleeding). Find more information about cervical screening.
Electrocardiogram (ECG)
For patients who have a heart condition or concerns about their heart function, an ECG may be recommended by the Doctor.  More information about the ECG can be found here.
Wound Care, Dressing and Stitch Removal
If you have a post operative wound, leg ulcer or large burn the nurse will be able to clean and dress the wound appropriately and give you advice on how to look after it to avoid infection. The Nurse can also remove stitches and staples after surgery.
General Contraceptive Advice
If you need general contraception advice or a repeat of your current contraception, the nurse will discuss your current contraception and possible options available. Our Nurses cannot prescribe the contraceptive medication but will be able to request this for you after making sure that you are well and have not experienced any unwanted side effects. Please note that we do not offer IUCD or Implants and so if this is your preferred option you may be referred to a family planning clinic. More information about contraception options is available here.
Sexual Health and Screening Advice
If you fear that you may have contracted a sexually transmitted disease the Nurse will conduct some tests and will give you general advice about management of your symptoms. More information about Sexually Transmitted Diseases.
Ear Syringing and Ear Care Advice
If you have a build up or wax in your ear the Nurse can help wash this out using special equipment.
A double appointment is needed.
Please note that if you feel that you have problems in hearing and/or suspect that you have a build up of wax in your ear, you must see a Doctor first. This is because you may need to be prescribed some ear drops to soften the wax before your appointment with the Nurse. Find more information about earwax build up.